k.shiz
1/5/2011 10:00am
Edited Date/Time
8/18/2014 12:17pm
Remember when:
-a 5" travel single crown fork was considered dangerous
-sachs chains (spelling?)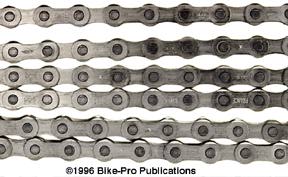 -wood grain 9.0sl derailleurs
-half the bikes on the world cup were re-stickered m1 frames
-the cactus cup race
-magura hs-11s or 22s on trail bikes was ballin'
sspomer
in 1998 or 1999 my first full suspension bike was an FSR "max backbone" i bought on mtbr. within 2 weeks i got the MRP link with stratos shock to increase travel to 6 inches. more travel is more better, right? LOL. this isn't my bike, but it was just like this only w/ a Jr T on the front and then a ZZYZX...v-brakes all around, too. i also wondered why my chain kept falling off my single-ring XTR crank set up with no chainguide. sheesh!
NoahColorado
1/5/2011 11:37am
Edited Date/Time
1/5/2011 11:39am
Haha, that Cactus Cup photo is Tom Rogers - who still rips!
I used to rock these in green on my hardtail...sick
syngltrkmnd
Not only do I remember when the 5" fork was wild stuff, but I remember just a few years later being skeptical when my friend mounted up a Z150 on his hardtail. "SIX INCHES of travel on a single crown? You're crazy," I said.
I currently ride a Float 150 15QR. Insane.
1/5/2011 12:24pm
Edited Date/Time
1/5/2011 12:49pm
Sorry I could not get the photos to copy into the post....

Remember the Giro Switchblade helmet, I kind of wish they still made these, they would be perfect for the All Mountain scene.

Remember the Nokian Gazzaloddi 3.0 tires, i embarrassed to admit it but I ran the 3.0's front and rear.

Remember the Marzocchi Super Monster fork...i think it was 12 inches of travel for back in the Bender days.

Remember Chain Smoke, best mountain bike VHS made!!

Remember the Roach toptube pads...all the sweet north shore hardtails had them.

Remember the 24" wheel fad...
Michael_Lucero
Onza tires were the bomb.
Samsquatch
Hey now! Sachs chains just became Sram chains... definitely not so nostalgic there, I still use them!
Upgrade kits for forks (kind of coming back in a more sophisticated way with Push, etc)... brake arches, elastomer swap to spring kits and all that business. Oh and speaking of forks. I have one of these babies in the garage still...
...maybe I should mount it up to a Klein with Cook Brothers cranks, Panaracer Smoke and Dart tires, and a pair of Onza pedals. Some matching Control Tech Control Stix bar ends would be a good call.
Remember the Foes leaf spring DH bike thing?
Razor Rock 20mm rear thru axles?
The Tioga bread loaf saddle?
And Tioga had the disc wheel cover too...
Those awesome Power Straps toe clip things (I think these are back with the fixie kids)?
And damn... I completely forgot that Palmer was sponsored by Mountain Dew.
alloneword
I remember my first real deal MTB was a '93 KHS Montana Comp. I had a couple Raleighs before that and a Park Pre Hammer but they were piles so my mom hooked me up for Xmas with this dope ass KHS. It was steel man, it had Rapidfire Plus shifters, it had the aggressive Panaracer Smoke/Dart tire combo. I was jacked! I swapped out the crappy rubber grips it came with for the super sticky 5 sided Ritchey True Grips. I also put on a lycra seat cover, because you know it gave me that extra edge. I also had the frame bag so that I could carry it on my shoulder when the trail got hairy and I kept my Supergo Tire Patch Kit in it. Ahhh, that was a ride. This isn't mine but it's the closest one I found.
http://www.eandsweb.com/cgi-bin/bikes.cgi?bike=KHSMontana%20Team
I also rocked my first set of "clipless" pedals with some Vittoria shoes. The kind with the toe cage and the slot on the cleat that steps onto the back of your pedal cage.
erik saunders
Panaracer smoke was the first tire worth a damn for sure. Had those on my super caliber with 1.25 headset and glued in bb.

Remeber when Gary fisher was just fisher?

Remember when you had to also ride trials in Mtb races because it was an overall?

Remember when you rode the same bike in dh that you did in xc?
MrPrometheus
Remember when you had to run the v brake to disc brake adapters for the early Specialized FSR bikes? You had to drill your own hole in this exact spot and if you got it wrong needed to run a huge stack of washers to correct the alignment.
I remember when I cracked the head tube of my FSR at race practice at Plattekill, drove home and welded a steel "band-aid" to try and hold the head tube on and then went back up to race the criple. Fun times...
How about the "floating brake" rage from back in the day. I can still see in my mind those blue lightning bolts of the brake therapy ads from the mags back then.
http://web.archive.org/web/20050623005112/http://www.therapycomponents…
I also admit to falling victim of monster bike plowing with 3.0 gazzies. So silly...
1/6/2011 7:11am
Edited Date/Time
1/6/2011 7:11am
bturman
Just a couple of more things popped into my head.... Remember back in the day when most forks would not fit the 2.5+ tires so you...
Because you're not using the image address. Go to the actual site (not google), right click the image and copy the image address. Then click 'photo' when replying on Vital and paste the image address in. The address should end with the image file extension, like .jpg or .bmp
That-Norco-Dude
Remember shimano air lines
MDJ
@vics36, the DHO wasn't really the first (Dual crown maybe). I was going to post - remember when a 3" elastomer fork was considered a DH fork? The RS Judy line had a DH version. It was red but my GT LTS DH came with a custom GT yellow color. 5/3" R/F travel for a cutting edge DH bike. Too funny.

Remember when you raced a Pro-Flex down the Mt. Snow DH course? No? You are so lucky. That was a firghtening experience.

Remember all of the pros hanging out getting high before their races?
Thanks for the info bturman. Zzyzx forks [img]http://tandems.free.fr/mountain/suspension/zzyzx.jpg[/img] Canondale Fulcrum [img]https://www.vintagecannondale.com/odd/98fulcrum/98fulcrum.jpg[/img] Cannondale Super V Raven [img]http://66.147.244.179/~vintagm8/sites/default/files/images/raven_0.jpg[/img] RaceFace North Shore cranks - I rounded out a couple...

Thanks for the info bturman.

Zzyzx forks

Canondale Fulcrum

Cannondale Super V Raven

RaceFace North Shore cranks - I rounded out a couple of these bottom brackets

Kranked 1

You remember the saying

"Tequila tonight, tomorrow we ride!"
I was talking to Tippie today...haha

Tonight tequila...tomorrow we Ride!!! I think stickers are in order.
kidwoo