Cane Creek DBinline Rear Shock
(discontinued)
Where To Buy

Free shipping on orders over $50 (continental U.S. only).
International shipping available. Some exclusions apply.

Free shipping on orders over $50 (continental U.S. only).
International shipping available. Some exclusions apply.

Free U.S. shipping on orders over $45.
International shipping available. Some exclusions apply.
First Ride: Cane Creek DBinline Air Shock
Review by Brandon Turman // Photos by Derek DiLuzio and Brandon Turman // Video by ZfH Productions
When Cane Creek first launched the Double Barrel coil shock in 2009, it was the first of its kind to offer a twin-tube design with four-way independent damping adjustment. They created the shock under the belief that "suspension is personal," meaning one person's perfect tune is not the same as others. In 2011, the DBair was released, bringing the same level of tunability to an air shock. The DBair would later see the addition of the well-regarded "Climb Switch" in 2013.
Today Cane Creek is proud to introduce the DBinline - the first Double Barrel twin-tube shock designed specifically for bikes in the 120-150mm travel range. The new inline design has no external reservoir, but thanks to some clever engineering it offers the same capabilities in a smaller, lighter package that will fit more frames. We traveled to Cane Creek's headquarters near Asheville, North Carolina to see and ride the new creation.
DBinline Highlights


Inline air shock design
Intended for aggressive Trail, All-Mountain, and Enduro bikes with 120-150mm of travel
Twin-tube damping in two high-speed and four low-speed circuits
External compression adjustments: High-speed (4-turns) // Low-speed (12-clicks)
External rebound adjustments:High-speed (4-turns) // Low-speed (18-clicks)
Climb Switch adjustment (on/off)
Tunable air spring with volume spacers
Anodized and laser-etched finish
Lengths: 165 x 38mm // 184 x 44mm // 190 x 50mm // 200 x 50mm // 200 x 57mm // 216 x 63mm
Standard air can size on all lengths
Low friction bushings with 1/2" universal axle
Hand-built in Henderson County, North Carolina, USA
Weight: 295 grams (165 x 38mm without hardware)
MSRP: $495
Available: June 16, 2014
"I like to say we hit the DBair CS with a shrink ray. We set out to bring Double Barrel performance with CS-optimized climbing damping into a smaller, lighter shock. Riders of shorter travel bikes now have access to the adjustability and control that characterizes Cane Creek suspension without paying a weight penalty." - Josh Coaplen, Cane Creek Vice President of Engineering
Four-Way Adjustability: The DBinline offers more external adjustability than any other inline air shock we've tried to date. Want more high-speed rebound or compression damping? It's as simple as inserting a 3mm allen key and turning the knob. The same goes for both low-speed adjustments. Each adjuster independently controls each phase of damping without crossover effects. While these types of damping may be adjustable on other shocks, you often have to remove the shock from the bike, open it up and have a lot of knowledge about what you're doing.
Twin-Tube Technology: Twin-tube technology also sets DBinline apart from other inline designs. Rather than simply pumping oil back and forth across an internal damping piston, the oil circulates continuously through the externally adjustable shock valves. Twin-tube shocks have two main chambers, a compression chamber and a rebound chamber, separated by the adjustable valves. The main damping piston forces damping oil between the compression and rebound chambers via the externally adjustable damping valves. On the trail, the twin-tube style routing of oil is said to translate into less fade and more control. Pressure acts on both sides of the damper to reduce the risk of cavitation.
Climb Switch: Cane Creek's proprietary Climb Switch (CS) technology increases low-speed compression and low-speed rebound damping via a set of internal "climbing circuits," unlike other climbing platforms that change only low-speed compression. By changing both, the shock improves pedal efficiency while also decreasing chassis motion by essentially over-damping the shock in both directions. The impact CS has on the shock is tuned based on each frame's needs.
Membrane: Inline style shocks typically use an internal floating piston (IFP), whereas DBinline utilizes a flexible rubber membrane (similar to a bladder) to separate the damper oil from the nitrogen-charged gas chamber. This design is usually only offered in piggyback style shocks. Use of the high nitrile content, low gas permeability membrane is said to reduce stiction and has been tested to one million bottom-out cycles without fail. Due to space restrictions Cane Creek hollowed out the end of the eyelet to act as the gas chamber.
Volume Spacers: Aside from damping and pressure adjustments, additional tuning can be performed by inserting or removing air volume spacers. This process has been drastically simplified on the DBinline, and now takes less than a minute to perform. Just pop off a snap ring using your fingers, slide the outer air can sleeve up and insert a rubber spacer. Doing so adds bottom out resistance, impacting the last 50% of stroke. If the bike is kinematically progressive (built into the linkage design), often times no spacers are needed. If it's less progressive or regressive, add some spacers. Cane Creek introduced a new trimmable 5cc spacer design that will replace the current spacers on DBair shocks as well, offering even more fine adjustment.
Fade Resistance: High heat is a shock's worst enemy as it can alter the viscosity of the oil making it thinner. The thinner the oil, the smaller the resistance and hence a lowering of the damping rate - known as shock fade. Sometimes at the end of a long run bikes will feel loose in the suspension and tend to bounce around much more, with higher chances of bottoming out. The DBinline shock uses 37-48% more oil compared to most "fair competitor" inline shocks, which is said to further improve consistency and fade resistance. All that oil comes at a ~100 gram weight gain over a comparably sized traditional inline design, so Cane Creek says it's made for the type of rider who prefers good tires and suspension performance over saving a few grams. On the other hand, it's also a 200-250 grams less than a DBair CS, so you could look at it as though you're saving weight while maintaining a high level of adjustability. Cane Creek says they also designed the shapes of the damping adjusters to release heat more effectively than a traditional design.
Seal Updates: The main piston seal and seal head use new self-lubricating graphite-impregnated L-shaped backup rings, intended to prevent internal metal on metal contact under side loads.
Initial Impressions and Setup
While this may all seem a bit complicated, and it is, Cane Creek works with bike manufacturers to determine the best overall settings for each frame based on the frame's design and field testing. These "Base Tunes" are specific to that bike. While other shocks may come custom-tuned for a frame, the DBinline's settings comes via knobs versus shim stack changes, which can be easily changed. Your preferred settings are likely to be just a click or two off of the base settings.
We rode the Specialized Enduro 29, a 155mm travel rig with a penchant for high speeds. We've ridden this bike before with a DBair CS, so while it may be just outside of Cane Creek's suggested travel range, it served as a good platform to try out the new shock. It also dropped the bike's weight by ~200 grams.
The base tune for the Enduro 29 is as follows. It uses a little over one 5cc volume spacer in the air can.
After setting the shock up with 15mm of sag and cycling it a few times, we immediately noticed an improvement to the DBinline's beginning stroke compared to the DBair or DBair CS. Refinements to the main seal and negative spring give the DBinline less of a "dead" feel off the top, and the point when the main seal passes the negative fill dimple is less noticeable.
The inline design improved water bottle access on the Enduro 29, and made it possible to run on bottle at all on other frames at the product launch, including the new Intense Tracer 275 Carbon.
On The Trail
Cane Creek's headquarters in Fletcher, North Carolina is close to hundreds of miles of great trails. We spent one day riding in the highly praised Pisgah National Forest, one day at the DuPont Corn Mill Shoals area, and one at Bent Creek in Asheville. The rides included heavily rooted singletrack and gravel road climbs capped off by sometimes steep, rocky, and rooted descents with several hucks to flat. Trail conditions varied from dry to very wet throughout the three days of testing.
Setting off for our first ride, it was immediately clear that the shock is very supple off the top with little to no stiction. This was appreciated when staying light over the first root and rock-strewn section of trail. Coupled with the Enduro 29's relatively high initial leverage ratio, the bike tracked the ground well with good initial sensitivity and no noticeable kicks or harsh feedback in the pedals.
Pressing further into the stroke, the feel remained predictable and controlled with a smooth progression. Running the stock base tune, the DBinline seemed to make the Enduro 29 sit higher up than the DBair CS, providing a bit more of a lively ride that is typical of inline shocks. At the same time, the control offered by the shock surpassed what we've come to expect of inline shocks, especially over bigger hits, verging on piggyback shock territory.
The base tune made for a ride that was very rarely harsh. After descending through a rough off-camber section at speed and feeling as though the rear end was stepping out and occasionally some strong feedback in continuous chunder, we lowered the high-speed compression half a turn. This solved the issue, while the air spring and volume spacer still provided enough ramp to keep the bike from bottoming over bigger hits.
Despite doing our best to bottom the shock out on a number of hucks to flat, we only reached the absolute bottom one time, but were able to consistently use close to full travel when it was needed. The shock bottomed very smoothly, lacking any loud sounds or an overly harsh feeling.
We experienced no consistency issues on the descents, though the longest run was just four minutes long at a quick pace. We want to test it on a 15+ minute descent at race pace in the future.
Pointed uphill, we turned the Climb Switch on, activating the secondary low-speed compression and rebound circuits. We found it to be very effective at quieting the sometimes bouncy nature of the Enduro 29, especially on the long rooted climbs typical of North Carolina. We preferred the Climb Switch at 1/2 to 3/4 actuation for less of a dead feel. On higher speed climbs with lots of continuous rough patches it sometimes packs up otherwise.
At the end of three days, our preferred settings weren't far off of the base tune set by both Specialized and Cane Creek, which speaks well of their ability to find a good starting point. The real beauty of the shock is that we were able to make those adjustments while on the trail. Cane Creek includes a very useful Tuning Field Guide that will help any rider determine how to tweak the settings, regardless of experience.
Things That Could Be Improved
This shock was made to fit a wider variety of frames, which it does, but it still may not fit every frame due to space restrictions. Those with limited room around the shock mounts will want to check Cane Creek's Fit Finder or with their frame company before ordering. To maximize fitment options and accessibility, it's possible to rotate the air valve 360-degrees and flip it to change its fore/aft position. They can also rotate the 4-way adjuster assembly at the factory.
It may also be hard to reach the Climb Switch on some frames. To address this, and to improve on-the-fly accessibility for all, Cane Creek will offer a bar-mounted CS remote later this year. It will come as a retrofittable kit for the DBinline, and will not fit DBair CS shocks "yet." As it stands the Climb Switch is most suited to prolonged climbs, not quickly changing terrain.
Finally, some riders may want tool-free adjustments. Cane Creek says they've discussed this several times internally, and the decision to require a tool for everything but the Climb Switch was intentional. They feel that using a tool makes you consciously think about the adjustments you're making. In addition, they're less likely to be mistakenly turned in the current configuration.
Long Term Durability
Three rides is hardly enough to evaluate long term durability, but our initial impressions are positive. We saw no leaky shocks and had no failures across 10+ test bikes during the product launch. The design seems well-thought-out, requiring just a standard bottom bracket tool for air can service. The air spring can be serviced without opening damper and looks to be a straightforward process. We'll be evaluating the shock over a longer test period and will update you if any issues arise.
What's The Bottom Line?
We often comment about suspension performance on trail bikes, sometimes wishing for a different shock tune to improve the ride over certain types of terrain. The Cane Creek DBinline shock allows you to easily make and test those adjustments on the trail, something never before seen in an inline shock. We were impressed by the shock's ability to calm the rocky, rooty terrain in North Carolina on the way down AND up the hills. As we've written before, the unique Climb Switch works like a charm, drastically improving traction and control while ascending. This shock packs a lot into a small package, and could be the ticket for shorter travel bikes in need of a performance boost.
Visit www.canecreek.com/thedisruptor for more details.


---
About The Reviewer
Brandon Turman likes to pop off the little bonus lines on the sides of the trail, get aggressive when he's in tune with a bike, and to really mash on the pedals and open it up when pointed downhill. His perfect trail has a good mix of flow, tech, and balls-to-the-wall speed. He loves little transfers, rollers, and the occasional gap that gives him that momentary stomach in your throat kind of feeling. Toss in some rocky bits with the option to double over them or risk pinch flatting and you've got a winner in his book. In 13 years of riding he worked his way through the Collegiate downhill ranks to the Pro level. After finishing up his mechanical engineering degree, his riding focus turned to dirt sculpting and jumping with the occasional slopestyle contest thrown in for fun. Nowadays he's Vital MTB's resident product guy, putting in saddle time on nearly every new platform and innovation the bike industry has to offer.
Reliability Updates to the Cane Creek DBinline Shock
Cane Creek is the first to admit that reliability of their Inline shocks has been less than stellar, but they've continually worked to make things better in the tiny shock that does it all.
Recent changes to the DBinline shock prompted DirtLabs, a Colorado-based suspension tuning and service center, to release an update detailing the unpublicized changes. In it, they write:
"The update includes a much larger bushing contact area and also moved the bushing to the top of the sealhead. Both of these revisions will help the shock handle sideload and decrease the possibility of wear on piston shafts.
Additionally, for their air shocks, Cane Creek has revised their main air piston. Two raised shelves have been added for greater contact with their glide-rings which should help with torsional rigidity and aid in negating air transfer into the negative chamber, causing the shock to suck up into its travel.
Obviously, time will tell on how the parts hold up, but we believe these improvements are a large step in the reliability of the shock. Good work Cane Creek."
Curious to know more, we also reached out to Cane Creek directly to get the full scoop:
---
What changes have been made and to which products?
Advancements in both the design and production of the DBinline have been employed since it was launched in 2014. However, it is not the only product that has changed. We refine all of our components as our knowledge and technology grows. The DBcoil is a great example – the shock that we offer today is vastly improved and different from the original shock that Cane Creek launched in 2005.
We have improved numerous parts and procedures for the DBinline. Not being one for smoke and mirrors, I'll tell you that some are really not worth mentioning. Most notably; however; we changed the oil seal head and improved the diaphragm in the valve body.
Why were they made?
The DBinline was the first shock of its kind. Our engineering team was tasked with bringing to market a product that would be revered as a game changer. With this leap forward in mountain bike suspension technology, we learned many lessons. A vast percentage of the improvements were aimed at eliminating any and all elements affecting reliability. In the case of the oil seal head, we identified a need for greater heat resistance. The dome shaped membrane was an improvement over the original flat membrane that had a chance of getting cut by other internals.
Are these updates purely for longevity/durability, or do they offer some type of performance benefit as well?
Primarily, these are longevity updates.
How can a rider determine if they need an update?
Their shock will cavitate. These improvements are not required as not all shocks are affected. We aim for a failure rate of .5% or less in the first year on all of our products. The DBinline fell short of that goal and these improvements shore that up.
How do people get the updated internals?
If a person needs service, they can find their nearest Cane Creek Factory Authorized Service Centers on our website and/or by contacting us for Factory Service: info@canecreek.com, 1-800-234-2725.
The Good
Cane Creek Provides Many Tunes, Extra Oil Volume Compared to Other Inline Shocks, Four Way Compression/Rebound Adjustment, Cane Creek's website to aid in set-up
The Bad
Blew The Compression/Rebound Circuits After 3 Months
Overall Review:
I knew it was time to look for something different when I was feeling inconsistent performance on my Fox Float CTD shock (pre DPS). I had looked at multiple options for my Devinci Troy with 140mm travel in the rear and 160mm up front. I am not a weight weenie, but I did not necessarily want to go with a full piggyback shock either. That is where the Cane Creek Double Barrel Inline finds its place. I have been using it since the end of June and figured that about 4.5 months was a good test length.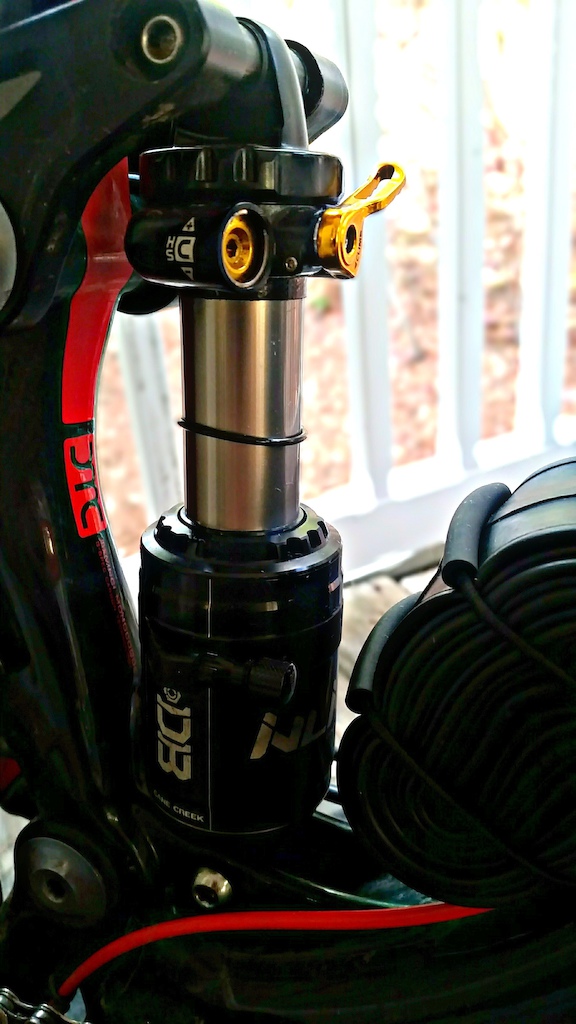 Some of the highlights include:


Cane Creek provides many tunes on their website to give a base tune for your specific frame.
Four way compression/rebound adjustment
Extra oil volume helps give consistent performance
Cane Creek includes a field tuning guide and an App that is coming soon for Android and IPhone
Built locally to me in North Carolina
Climb switch that controls LSC and LSR


The Details
Cane Creek provides the base tune for the Devinci Troy of: HSC 2 turns from open, LSC 7 clicks. HSR 2 turns, and LSR 10 clicks. They recommend 15mm of sag which is 30% sag and no volume spacers which was a good start. The base settings would be good even if you are person who does not like to play around with settings a lot. I have been playing with the settings some and the tune I have so far is: HSC 3 turns, LSC 8 clicks, HSR 1.75 turns and LSC 11 clicks. I have one large volume reducer and set sag at about 12mm or 23-25% sag using 208psi of pressure (I weigh about 180 geared). Adding in the volume reducers is easy. All you have to do is let out all of the air and take the clip off at the bottom of the can. You can use a small screw driver or even a fingernail to get it off. I had to use a rubber strap wrench to wiggle the can off, but with some patience would come off without it.
With these settings I was able to find a good balance with my type of riding which is a mix of smooth singletrack all the way to rocky/rooty East Coast riding with some small to intermediate sized jumps. I am the type when it comes to the rear shock that likes to have a good overall setup. With the stock settings I was having issues with it blowing through travel too quickly and often. Once I adjusted it for my riding preferences, it does a much better job of dampening without too much bottoming out.
The climb switch is unique to Cane Creek shocks. It controls the LSC and LSR. This is different from the rest as they all just control the LSC circuit. To me this feels like it make climbing smoother and keeps the real wheel planted to the ground better on rough climbs. It is easy to switch (push lever down), and can be done without even looking down.
Issues
I did have an issue after about 3 months of riding with the shock. At first I just thought I was just loosing traction due to a worn out tire. After a closer look, I discovered that there appeared to be no rebound dampening. I rode it for a bit more just to make sure I was not crazy. After a bit more time I decided to have Cane Creek take a look at it who confirmed it was blown up. I did not get any details as to what the exact problems were though. The good news here is they looked at it very quickly and decided to send me a brand new one at no cost!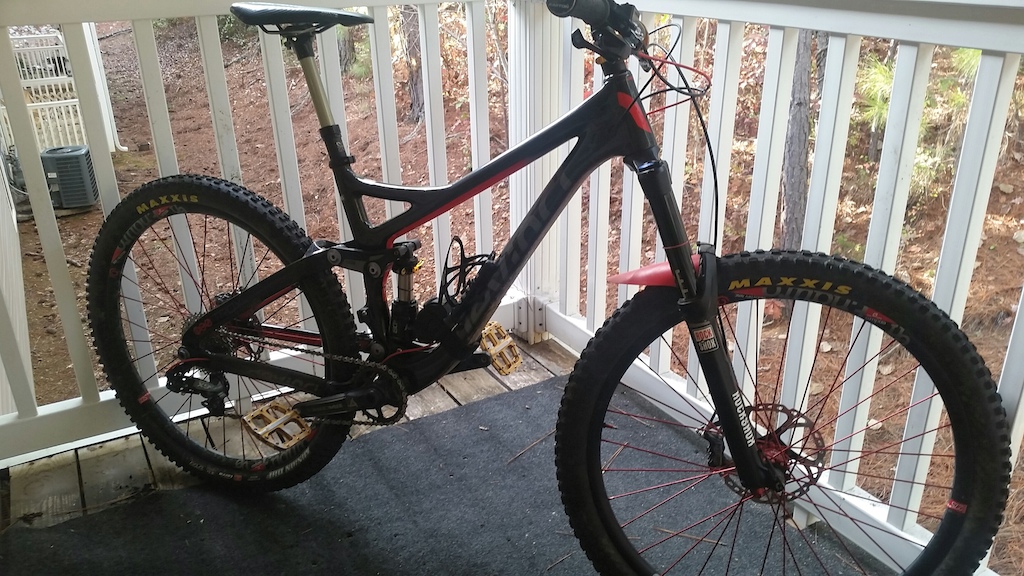 My Verdict
It is a very impressive shock and Cane Creek is known for their great support. With this shock I was able to get the consistency I was looking for with it being even more supple and better control overall. My second one has not given any issues, and even considering the issue that I had with it, I would recommend it to anyone who is not happy with the performance of their shock. That even includes people who do not like to tinker a whole lot. Cane Creek has worked hard to make it as easy as possible to get your bike up and running well without a lot of tuning knowledge, and will have an App soon to make things even easier.
Follow up: I have blown another one of these, neither the rebound or compression circuits are working and a bunch of air mixed in with the oil. I believe that the oil has made its way into the air can somehow. If I shake the shock, you can actually hear the oil slosh around inside the shock. I am adjusting my rating due to a repeat problem.
Update: Solid performance at Trail weight
The Good
Super-adjustable, light weight
The Bad
Having to send it away for a service. Difficult to get set up perfectly.
Overall Review:
Updated July 2017. I've ridden this shock for 2 seasons now and am updating my first review.
I've owned two of these shocks. Both were unaffected by the problems some other users have experienced, whether that is due to luck or improved quality control from Cane Creek, I can't say. I have this mounted to my 160mm Norco Range Carbon and use it primarily for Enduro style riding, with some shuttle and bike park days.
Strengths: I chose this shock for the weight savings over shocks like the Monarch Plus Debonair or Cane Creek DB Air. I am a guy who loves to tinker with suspension settings and it really pays to play around and see what works for your preference, riding type, trails, etc... I can see how if you weren't into that kind of stuff, another shock on might be a better option. However, this shock transformed my bike. It is faster, more stable, and more enjoyable to ride compared to the stock Fox Float. With more oil volume than most other non-piggyback shocks, I've experienced very little spiking or or any kind of performance woes while doing long and hard descents at bike parks or during enduro races. I did have some oil leaking from the seals right off the bat from the 2nd shock I owned, but after having it serviced, it has been perfect.
Weaknesses: Now that brings me to the biggest weakness I can think of: you can only service this shock in Canada at about 3 places. None of which are within 800 km of where I live. It costs about 4 times more for a service than taking a Rockshox shock into the local shop, and you are without a shock for about 7-10 days. That sucks. No way around it. The shock did come back feeling good, but it would be nice to have the option to have a local shop do the work, or even to be able to do basic stuff yourself. Other than that, it is a good shock. It is also more difficult to set up compared to most other shocks. As previously mentioned it is extremely adjustable, but even after tinkering with it and getting settings from a Norco mechanic, I still couldn't get it to feel quite as good as a Monarch Plus Debonair with a few spacers in it. It is an improvement over the Fox Float, and weighs less than the Debonair, so you'll have to weigh (pardon the pun) how important weight and adjust-ability is to you. I also found that the bike lost some of its playfulness.
Recommendation: For users who want added performance compared to a Fox Float on a trail bike, this is a solid choice, as long as you are ok with tinkering a lot to get it adjusted properly. However, I probably would pass on the Inline for an enduro bike. The Monarch Plus Debonair or Cane Creek DB Air are a more suitable choices for a more gravity oriented ride.
Specifications
Product
Cane Creek DBinline Rear Shock
External Adjustments
Climbing mode switch (on/off), high/low speed compression, high/low speed rebound, air spring pressure
Available Sizes
165mm x 38mm (6.5" x 1.5")
184mm x 44mm (7.25" x 1.73")
190mm x 50mm (7.5" x 2.0")
200mm x 50mm (7.87" x 2.0")
200mm x 57mm (7.87 x 2.25")
216mm x 63mm (8.5" x 2.5")
Miscellaneous
Climb Switch (CS) technology adjusts both low speed compression and low speed rebound damping
Double Barrel (DB) Twin Tube technology has independent damping for both compression and rebound strokes
Anodized and laser etched finish
Norglide bushing 1/2" universal axle mounting interface
Inline Air Shock Design
Twin-Tube Damping In Two High-Speed and Four Low-Speed Circuits
Tunable Air Spring with Volume Spacers
Where To Buy

Free shipping on orders over $50 (continental U.S. only).
International shipping available. Some exclusions apply.

Free shipping on orders over $50 (continental U.S. only).
International shipping available. Some exclusions apply.

Free U.S. shipping on orders over $45.
International shipping available. Some exclusions apply.