It is vitally important that MET design products for our consumers that are innovative, inspiring and safe. Parachute MCR is MET's convertible full-face helmet developed for enduro, all mountain, and e-MTB riding.
At MET we were pioneers of the Convertible Enduro Helmet and the first to bring an ASTM certified Enduro Full-Face on the market. Our new MET Parachute MCR reflects this long-lasting enduro heritage.
Using our patent-pending Magnetic Chinbar Release, the MET Parachute MCR establishes a new standard for ASTM certified convertible helmets. It's easy to use and packed with all of the safety features including MIPS.
Whether you prefer to go upwards, sideways or downhill the Parachute MCR is developed to let you get more time on trails.
Ride Confident.
2 HELMETS IN ONE
The Parachute MCR is designed to be truly two helmets in one. The full-face has a stylish and aggressive look providing all-round protection, while the open face reflects the style of our all-mountain helmets. 
MCR PATENT-PENDING SYSTEM
The Magnetic Chinbar Release instantly converts from full to open-face helmet and back. MCR is MET's patent-pending system created in partnership with FIDLOCK®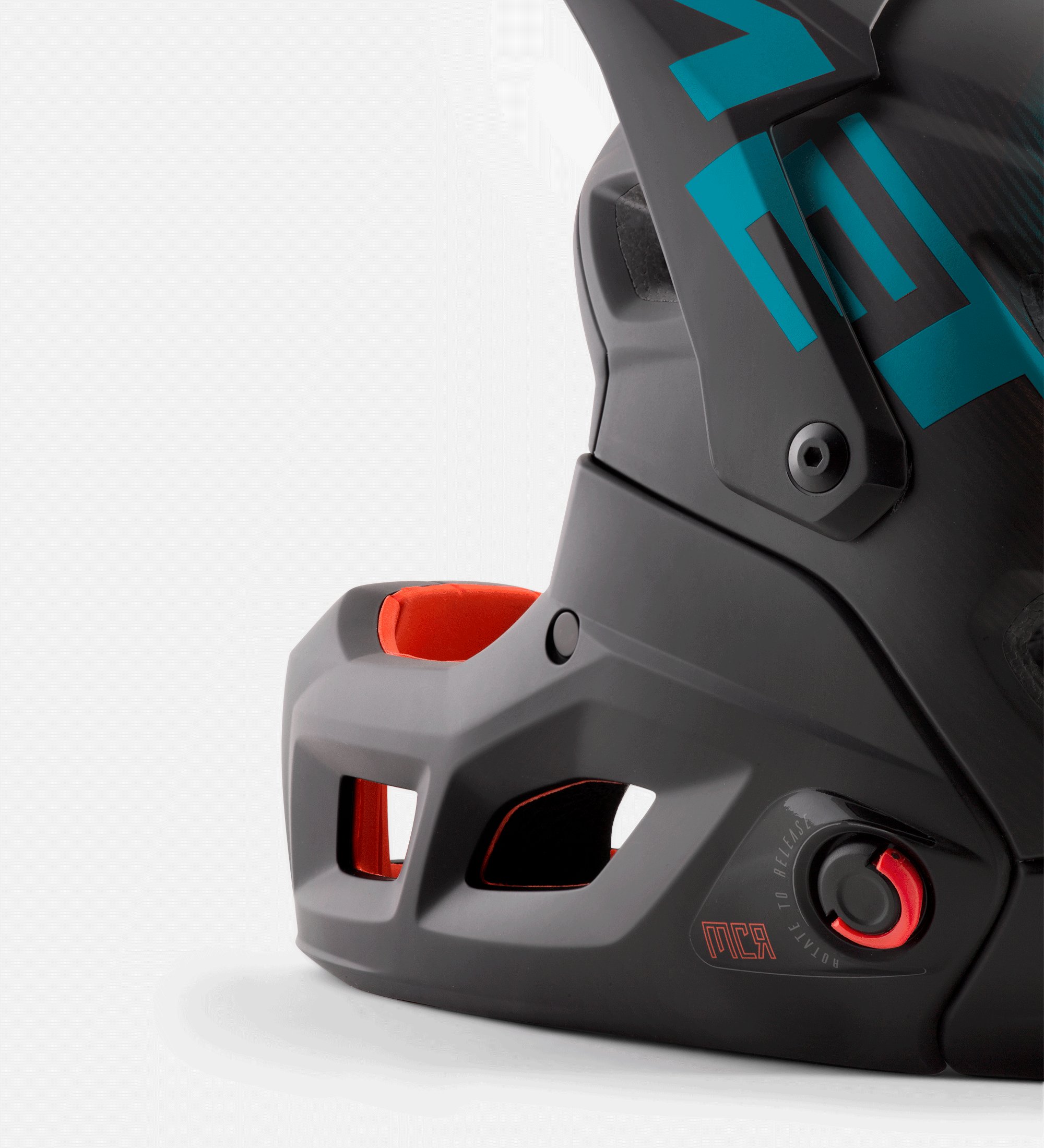 FLEXIBLE INJECTED VISOR
The visor is flexible injected to adapt to the shell of the helmet. This unique MET feature helps to manage extra rotational forces transferred to your neck in a crash.
ADJUSTABLE VISOR
The visor has two adjustable positions to allow storage of goggles and sunglasses.
CHEEK-PADS ARE REMOVABLE AND WASHABLE
The Parachute MCR also comes with two sizes of pads in the box to help you to find the perfect fit and comfort.
BOA® FIT SYSTEM
The BOA-FS1® features incremental adjustment forward and backward to deliver a precise and adaptable fit. It also offers 3 positions for vertical adjustment. The belt runs 360° around the head to avoid any pressure points, optimizing comfort.
MAGNETIC FIDLOCK®
The magnetic FIDLOCK® strap fastening system makes securing the helmet simple.
MIPS® BRAIN PROTECTION SYSTEM
The MIPS-C2 solution separates the shell and the liner with a thin plastic Low Friction Layer (LFL). This LFL, attached with 4 rubber elastomers, allows the helmet to slide relative to the head in the case of a crash, redirecting damaging rotational motion.
ASTM CERTIFIED
The MET Parachute MCR is ASTM F1952-15 / F2032-15 certified for the shell and the chin bar in order to guarantee perfect safety in both open and full-face mode.
VENTILATION
All MET helmets are known for how ventilated they are. 21 vents and the MET engineered internal air channeling work in synergy with the breathable chinbar to maximize the airflow at low and high speed.
The Parachute is on sale from now on in 6 colors schemes.
MET PARACHUTE MCR:
S | 52/56 cm
M | 56/58 cm
L | 58/61 cm
Weight (M size): Full Face 840g | Open Face 455g
Certified: EN 1078:2012 + A1:2012 | AS/NZS 2063:2008 | U.S. CPSC 1203 |ASTM 1952-15 / ASTM 2032-15
MRSP: 330€ | £300 | $350
Accessories: Fabric bag, 2 sizes cheek pads, rigid travel bag (not included) 
For more information, head on over to: www.met-helmets.com. 
Designed&Engineered in Italy
Tested by Riders around the world