Morewood Bicycles Kalula Frame
(discontinued)
Where To Buy

Free shipping on orders over $50 (continental U.S. only).
International shipping available. Some exclusions apply.

Free shipping on orders over $50 (continental U.S. only).
International shipping available. Some exclusions apply.

Free U.S. shipping on orders over $45.
International shipping available. Some exclusions apply.
The Good
Agility, Cornering, Jumping, Fun-factor, Suspension design, Stiffness and longevity
The Bad
Cable routing, Shock spring rub, Rear axle requires both 10mm and 12mm alan key
Overall Review:
I have owned this bike for around a year now. It has been taken to the Alps, many local DH trails in my home country of Scotland and has been raced. In fact, I even took it on a number of xc rides before getting a dedicated XC/AM bike. Here are my thoughts of the kalula so far:
Background:
When I first bought this bike, I decided it was going to be with me for a long time and that I didn't really want to go changing parts often. So I built it up with a pretty dream spec and intend to leave it that way until parts wear out/break. Initially expensive but I hope it pays in the long run.To give you an idea of the build, it is BOS front and rear, american classic wheels, shimano drivetrain, formula the ones, maxxis rubber (changed from the rubber queens which punctured if you meerly looked at them wrong) and other bits and pieces.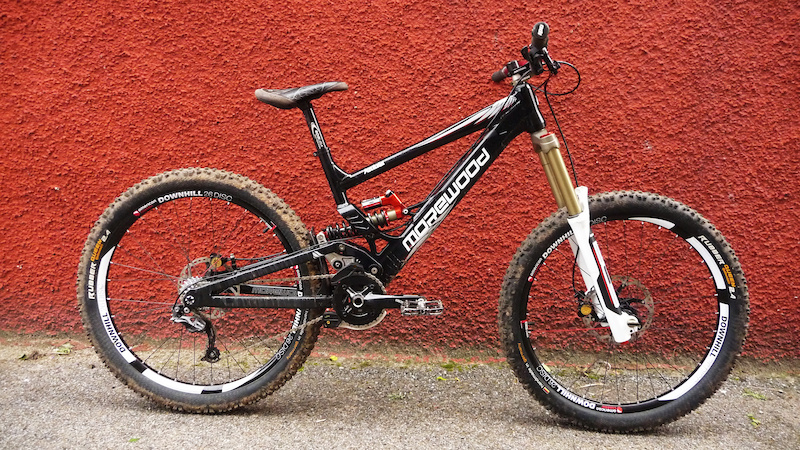 Initial thoughts and findings:
A few points to note before riding the bike. The sizing is slightly odd. I am 182cm and opted for a large, though I am normally a medium. I was told I am exactly in between a large and a medium, although having ridden a small makulu (same TT length as the medium kalula) I went for a large. I am happy with this choice - I have never felt compromised whilst riding as a result of the size although I do always wonder how a medium would have fared. Worth checking before buying though.
The second point to note is the spring. Firstly, weighing in at 62kg, or around 70kg fully kitted, I am pretty light. With the bike having such a long leverage ratio, I use a 250lb BOS spring. I also have a 225lb Cane Creek spring though find this a little soft. Trying to get hold of such long and lightweight springs can be slightly difficult but not impossible. Secondly, the BOS spring rubbed slightly on the frame where the shock passes through the cage that attaches the seat tube to the down tube. This was only on the left side and is due in part to the BOS spring being quite a wide diameter and, from what I can gather, the bushing tolerances on the shock not being exactly perfect. When fitted with the smaller diameter CC spring this was not a problem. As it is, I have taped the frame and pushed the bushings in as far as possible which has given the BOS spring thenecessary gap to compress without fouling.
Lastly, the rear axle. The axle itself requires a 10mm alan key and the bolt that it screws in to requires a 12mm alan key. Not too much of a problem in itself, although a 12mm alan key can be a bit of a pain to get hold of. Both alan keys can be quite bulky/heavy and are a bit annoying to have to carry around. Of course, you don't need them all the time, but if you ever get a puncture that requires you to remove the rear wheel, its not going to happen unless you have at least the 10mm key! I would love if there was a way to have the rear axle as some sort of 12mm QR...I can but wish!
First ride impressions:
I realise that the above may come across as slightly negative. Well, that all disappears when riding the bike! I remember my first proper ride feeling immediately comfortable; the handling was great, there were no strange sensations or suspension characteristics and it was just really easy to get on with. It quite honestly is one of the easiest bikes I have ever tried in which you can just get on and ride without having to spend time getting used to the bike.
Other things that I noticed on the first ride were how easy to corner and jump this bike was. Again, it felt very natural and easy to control, both on and off the ground. On the more DH style courses it also performed brilliantly.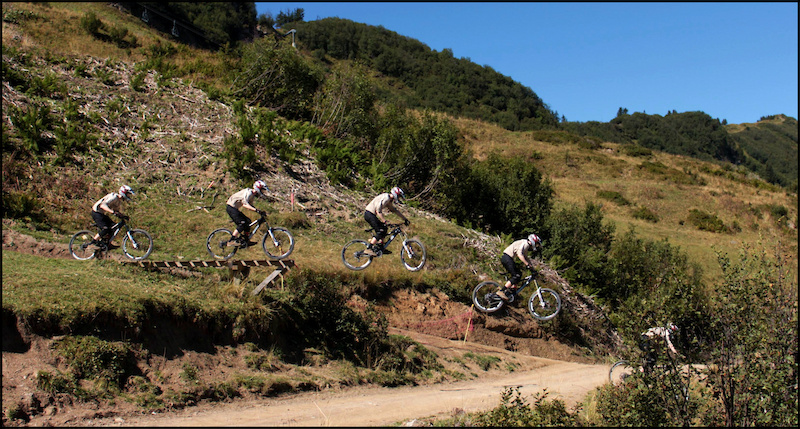 Longer term impressions:
I am happy to say that the playful, fun nature of this bike is still inspiring a year down the line. It really is a lot of fun to ride! Unfortunately I am probably unable to compare the kalula to a full on DH race bike, having never spent much time on them (short of borrowing friends' bikes, which are never ideal due to personal set ups). Sure, the kalula isn't a full on DH bike and I guess if you were looking for podium race results then it may not be perfect for you. For me, someone who is unlikely to ever win a DH race and who would probably not notice much difference between a mini-DH bike and race-DH bike (either physically or in getting a quicker time) then it is a good compromise. It is a beast on the DH, coping with fast rough section as well as the more technical sections of DH tracks, yet it also puts a massive grin on my face when taking it down tamer tracks.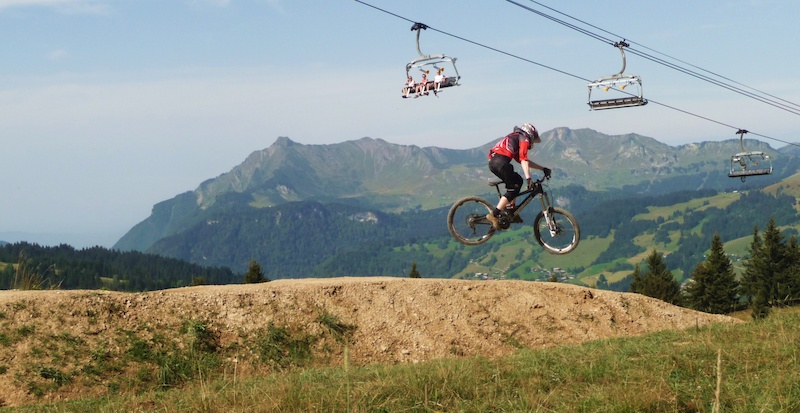 The kalula has even been taken around the fort william world cup xc track. And yes, its a bitch on the uphills but thats a bit like complaining that an F1 car is crap at the dakar rally. It was never designed for that, so it is never going to excel in that environment. Given enough leg power, the kalula can be ridden up most stuff at a steady pace, but uplift is an infinitely better prospect if its available!
Cable routing isn't great. It passes through the shock cage and when the suspension compresses, it can become bunched and push out to the side. Not noticeable when riding but it does rub pretty badly and will require taping to stop this rubbing.
I cannot imagine needing to replace this bike in a long time. It is solid, stiff and reliable. I have had no problems with the frame, bearings or any other part of the bike really (minus a few transmission problems which are unrelated to the kalula). It will stay as my DH bike, being ridden and occasionally raced. I doubt I will ever find its limits and cannot imagine a track that it would not cope admirably with. I am really very happy with the bike and would whole-heartedly recommend it to anyone looking for a bike that is fun, quick, stable, really easy to manoeuvre and copes well on full on DH while not being a barge like some race bikes.
Summary


Fantastic at cornering, jumping and ensuring you end each ride with a massive smile
Very easy to get on with, no unnatural characteristics.
Works incredibly well in a DH environment, the only time I could ever think I would want a full on race bike is if I was chasing the podium.
The suspension just works. Probably a combination of the linkage and BOS damper.
Its damn quick! Quicker than me anyway.
A few minor drawbacks, although these really are observations rather than true disadvantages
Did I mention it was fun?


The Good
Suspension design, cornering, weight, finish
The Bad
nada, n/a, nothing
Overall Review:
The suspension designs of Morewood are seriously sweet. I got a bit of time on a Makulu prior to the arrival of my Kalula (see review here: [url]http://www.vitalmtb.com/product/guide/Frames,7/Morewood-Bicycles/Makulu,1734[/url]) and was hoping the rear end of the Kalula would feel as incredible as the Mak...it does. The low leverage ratio makes the rear feel different than many other bikes...they feel super squishy in the parking lot, but you quickly realize on the trail that there is no mushy feeling and basically no pedal bob. The rear of the Kalula is very active feeling. I had to order a softer spring (250) as it came with a 300, which is wild as I'm nearly 200# geared up.

The Kalula is super agile and corners like a champ. I've actually never enjoyed the way a bike cornered more that this rig...it makes me smile constantly.

The Kalula is definitely the little brother to the Makulu and suits my riding style better...more jibby/jumpy and non-racer. It can still hang on full dh tracks, but if you want a race sled, the Makulu is your bike. If you want a bike that can rip the dh track and still kill in the park, the Kalula is the call.

Clearly this rig jumps well. And, it's so light and easy to move around, it feels a bit like cheating. I haven't had a chance to weigh this thing yet, but I wouldn't be surprised if it came in somewhere arond 36# without any attempt at chosing weight-saving parts.

Overall I couldn't be more stoked...unless I had enough loot sitting around to own a Makulu too.

Cheers to Lance and the rest of the doods at Morewood for creating some rad products!
Specifications
Product
Morewood Bicycles Kalula Frame
Frame Material Details
Custom Drawn AL 6082 T6, (2.3:1) Leverage ratio linkage with full compliment Enduro Max bearings
Rear Shock
241mm x 76mm (9.5" x 3") Fox RC2 or Cane Creek Double Barrel
Head Tube Diameter
120mm Tapered 1.1/8" Semi Integrated Top and 1.5" Bottom
Rear Dropout / Hub Dimensions
12mm x 150mm
Front Derailleur Size
n/a
Warranty
http://www.morewoodbikes.com/support/warranty/morewood-warranty.pdf
Miscellaneous
Syntace X12 Axle
Where To Buy

Free shipping on orders over $50 (continental U.S. only).
International shipping available. Some exclusions apply.

Free shipping on orders over $50 (continental U.S. only).
International shipping available. Some exclusions apply.

Free U.S. shipping on orders over $45.
International shipping available. Some exclusions apply.