UCI World Cup Rumors via @TeamRumours
sspomer wrote:

we have a new one from team rumors...what's it mean?

Black Beauty and the Beast

Sam Blenkinsop back on yeti
Guess thats not true since they just announced that Blenki is back on lapierre for the season. My guess is that the hat rider is gonna be bernard Kerr, they love their UK guys on that team lol
Pre-paid??

Hat wearing guy with non-bike sponsor gets to pick his own frame?
Hmm, maybe PricePoint hooking up Austin Warren on a Sette? Or JensonUSA pony-ing up some of that internet paypal cash for Mikey Sylvestri to rock some World Cup races.
Oh god this is all way too exciting! For the horse I'm sayin Cole yeti for sure. And for the hat i agree with general lee def a website but what one and who the dude is I have no idea
black beast and the beauty: matti lehikoinen on zerode? That guy gets mangy if he doesn't shave.
and another...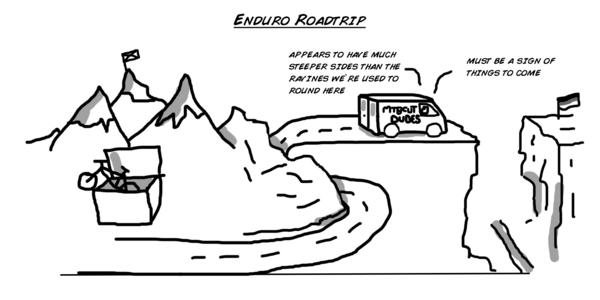 Stumped.... MTBCut off Orange?
Considering more than half of these were wrong last year, don't take em' to heart too much. But I do give them props for the added graphic design (shading on the mountain tops, nice touch)
The bigfoot horse is a tuff one. It would be weird to say that Yeti is Riding cam Cole, should be the other way around. Unless they meant Yeti is riding coles success
Looks like a German flag on the opposite cliff?
Nathan Rennie is a massive beast, could he be making a come back?
Rennie has been on Ironohrse before, and Yeti...
I seemed to recall a fourcross rider saying he was getting sponsored by Visa or some other creditcard.
sspomer wrote:

the newest from @TeamRumours

what do you think it means?


Greg WILLIAMSON on crc he was on nukeproof frames last year.
here is my guess

prepaid credit card = sam running his own thing

Black Beauty and the Beast = cam on evil

unsubstantiated reasoning is many riders wear hats sam is the only one i can think of that is known for it.
the blackest beast i can think of is the undead the horse is cam
davetrumpore wrote:

Brook riding that slick black and chrome Trek session
That was my guess - except you'd think that Brook would have a bulldog reference, not "beast" - regardless, I can definitely see "Black Beauty" being the new black carbon Trek
But wasn't that black n bling carbon Session a two-off "champion edition" for Gwinn and Semenuk?
cam cole to yeti then im guessing. yeti riding a horse( cam coles nickname) and a kiwi sign on the horse. stating the obvious here!
Pre paid credit card- My guess is Sam hill doing his own thing aswell. According to his instagram he is getting alittle blue collar on us and working a job and with the rumours of him starting his own team a few years ago its not looking very far fetched. Plus didnt his contract run out in 2011 he only signed a three year in 09 if im not mistaked with no huge press release of a major contract extension anything is possible... Oh how i love the off season!
Black beauty and the beast

is Wyn Masters on Zerode!
The yeti riding the horse does seem to point to Cam Cole...however a name that hasn't been thrown out there and makes a bit more sense when you think of the riders that Yeti usually picks up is George Brannigan.
makes sense ...i would see him (bulldog) over at specialized with sam doing is own thing!
I would say brook to trek because he hooked up with 23 degrees last year and trek has already announced that they are bringing two more riders on for 2013