This photo has 1 comment.
finger shoes on a mountainbike, in the desert, in the rocks… yeah thats an awesome idea.
Liked a comment on the item Dave Ziegman
1/9/2014 8:09 AM
Did Dave put on some weight?
Thanks Vital-MTB, I just started to ride again after having my shoulder re-constructed last January. Cant wait to shred some DH & see all my ninjas next year. Riding bikes is AWESOME!
This photo has 3 comments.
Oh I will be there, with my MEGAPHONE!
This photo has 2 comments.
That made me Smile! Super Sweet.
This video has 25 comments.
Added reply in a thread Is 4X dying?
2/11/2011 1:45 PM
Mudstud, We understand it is growing over sea's. That isn't the point. We(Americans) are simply saying this is what worked or what people liked, was DS. I raced BMX most of my youth tell I got into 4X. 4X is alright, but there is no skills competition ... more »
Added reply in a thread Is 4X dying?
2/11/2011 8:55 AM
I've been racing 4X & DH for six years or more. In the last few years the only tracks that are at a WC level are, Sol Vista, and Angle Fire, NM(IMO). Are tracks SUCK! I've never raced at Fontana, Ca. So I can't really say, but I'm sure someone will ... more »
Added reply in a thread Commencal Supreme DH
3/30/2010 8:38 AM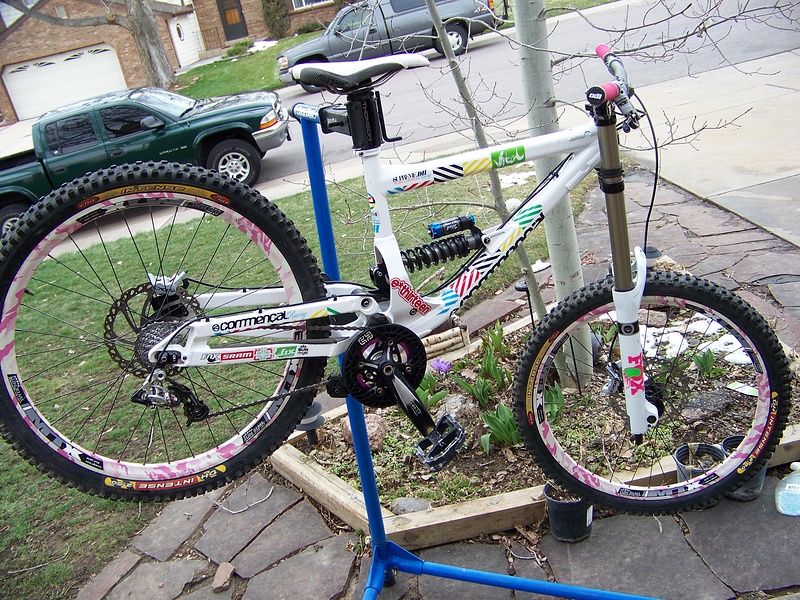 This is a 2009 Commencal Supreme DH. This bike has no major or dings or dents. Very CLEAN! I built this bike mid season , for US National Champs. The frame is ruffly six months old. This is a top of the line build, So do not low ball me. This bike is ... more »
This forum thread has 2 replies